Chateau Sturgeon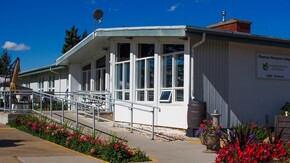 Chateau Sturgeon provides seniors accommodations in Legal. The facility is managed by Homeland Housing. Chateau Sturgeon has 41 lodge units consisting of a 216 square foot bed/sitting area with a separate full piece bathroom. Rooms are fully furnished or residents may choose to bring their own furniture (some conditions apply).
Chateau Sturgeon has lots to offer its residents. Not only is it a great place for seniors, it also offers accommodations for individuals with special needs. Consider Chateau Sturgeon if you require short-term respite care, it can be provided here.
The atmosphere is like no other and has to be experienced. Workers and residents are warm and welcoming. Everyone genuinely cares about each other's well-being. As such, management strives to accommodate the needs of all residents.