Pubic Works Department Overview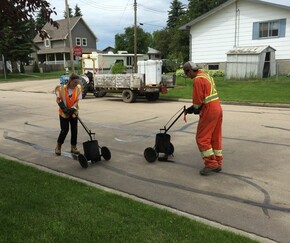 The Town of Legal's Public Works department provides essential and tangible daily services to the community - those which its residents, businesses and visitors need, expect and deserve.
Within the financial parameters set by Council, the Public Works department delivers a variety of services while protecting the environment and ensuring compliance with all federal, provincial and municipal government regulations. The department is comprised of physical assets, management practices, policies, and personnel necessary for the Town to provide and sustain its structures and services.
The department works hard to maintain and improve the quality of life for the citizens of Legal and the team takes great pride in their work.
Public Works performs a wide variety of day-to-day operations related to infrastructure maintenance, traffic, and safety functions which includes but is not limited to:
Maintenance and repairs of Town streets (paving and pothole programs), laneways, sidewalks, curbs, and gutters.
Maintenance, renewal and repair of street signage.
Provision of safe drinking water in accordance with government regulations.
Solid waste collection services.
Maintenance and repairs to the storm water and sanitary sewer collection systems which includes utility flushing programs and utility digs.
Parks and facility maintenance (parks, playgrounds, sport fields, green spaces, campgrounds, and walking trails).
Beautification (flowers, trees, scrubs, and painting), maintains/removes dangerous trees
Street sweeping programs.
Maintenance of Town owned equipment.
Provides support for Town events and functions.