Thinking about installing a Swimming Pool or Hot Tub?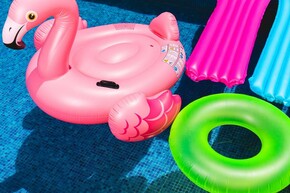 A development permit from the Town of Legal is required prior to the installation or construction of a private swimming pool or hot tub.
A few things to keep in mind:
Private swimming pools and hot tubs cannot be located in front yard. 
The Pool or Hot Tub must be secured against entry by the public other than owners, tenants, or their guests.
Private swimming pools and hot tubs must be entirely fenced and secured against entry by anyone other than the owners, tenants or their guests.
Every fence enclosing a private swimming pool or a hot tub constructed outside of an enclosed building must be 1.8 m (5.9 ft.) in height or, at the discretion of the Development Authority, higher, and must be of appropriate design to limit the ability of persons to use the fence parts to climb the fence or to crawl through or under the fence.
Gates need to be equipped with a self-latching device and a lock mechanism located on the inside of the gate.
A wall of a building may be considered as any part of the required fence, provided that the wall is minimum of 1.8 m (5.9 ft.) in height for the length that it replaces the fence. 
No barbed wire or electrification of any part of a fence or gate enclosing a swimming pool or hot tub is allowed
The definition of "Swimming Pool", as defined in the Town of Legal Land Use Bylaw, means a man-made body of water, either above or below ground, more than  0.5 m (1.64 ft.) and a water surface area more than 10 sq. m (107.6 sq. ft.) This definition shall include a hot tub or a similar facility which meets the dimension noted. Hot tubs and swimming pools are considered as an accessory building for the purpose of the Development Permit.
Please complete the Development Permit Application and submit to the Town Office.
For more detailed information please review the Section 8.44 of Land Use Bylaw 04-2018